Your challenge
---
No matter if your company is well-established in the industry or a recent market entrant, you must ensure that it is found on the internet – and precisely in the places where potential B2B customers expect to find your company profile. But where and in particular how do they search online for solutions such as yours? Is it good enough to rely just on your website?
Our solution
---
LUMITOS's B2B portals are visited over 9 million B2B users every year. Many of these search for suppliers and products. A Company Presentation ensures that your company is reliably found. Our experts will tag your Company Presentation with the right keywords and synonyms. It gives potential customers a quick overview of your company. By clicking the link to your website, they can get more comprehensive information.
Your benefits
---
You'll strengthen your brand by increasing its visibility in your industry

Potential customers can reach your website quickly via your Company Presentation

You'll use less of your budget compared with other forms of advertising, such as Google AdWords







Company Presentation at a glance
---
Company profile with your logo, link to your website, corporate video, location map, company certifications, trade fair participations
80 keywords to characterize your portfolio of technologies, products and services
Your most important brands names
Links in the Company Presentation to further information about your company, such as Product Presentations, White Papers and news items
Call tracking: We'll record for you the amount and duration of the phone calls generated by the Company Presentation
Performance figures let you experience your success at any time
These options further increase the success of your Company Presentation
---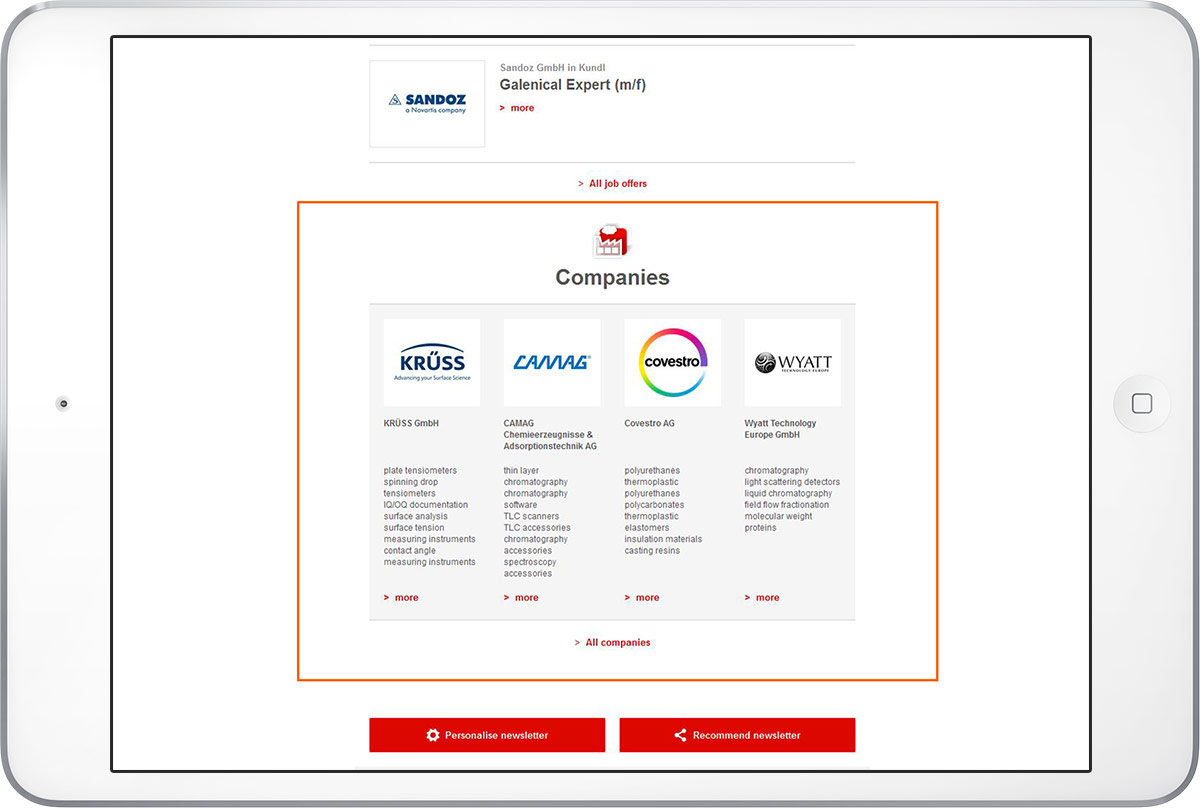 A Company Ad in our newsletters generates additional attention for your company and its portfolio. Due to its conspicuous position within the weekly newsletters, your Company Ad is sure to catch the eye of our users.
Your benefits
---
You'll strengthen your brand as your Company Ad appears in six newsletter editions

Your company receives attention from up to 112,000 newsletter recipients

Your Company Ad gets one of four exclusive advertising spaces
This is how we'll support you with your Company Presentation
---
Company Presentations vividly explained
---