Your challenge
---
Workshops that vividly demonstrate your application know-how and expertise to customers tend to be costly and are hardly feasible these days. If you cannot give live presentations of products to the usual extent and don't have the appropriate stage to launch new products, the consequence is: not enough sales leads to reach your sales targets.
Our solution
---
There are different ways that a webinar can reach existing and prospective customers. We give you the choice. You want your webinar to be live, like in a face-to-face workshop? Then select live webinars or semi-live webinars including a Q&A session. You would rather record your presentation in peace and quiet beforehand? Then choose a recorded webinar with a fixed date, or an on-demand webinar that viewers can access at any time. To increase the number of participants, we'll advertise your webinar on our science and industry portals and their newsletters with up to 180,000 recipients. You don't need to invest much time to inspire your participants and quickly gain new customers for your solutions.
Your benefit
---
Your expertise gets recognized because you share it with others for their benefit

Once created, you can use your webinar over and over again

Advertising via the worldwide LUMITOS network to increase participation

GDPR-compliant sales lead generation





Hosting of your webinars
Promotion of your webinars in LUMITOS's newsletters and portals
Social media posts on LinkedIn and Twitter
Invitation management
Performance figures and complete data of the registered participants
Webinars available on-demand for 12 months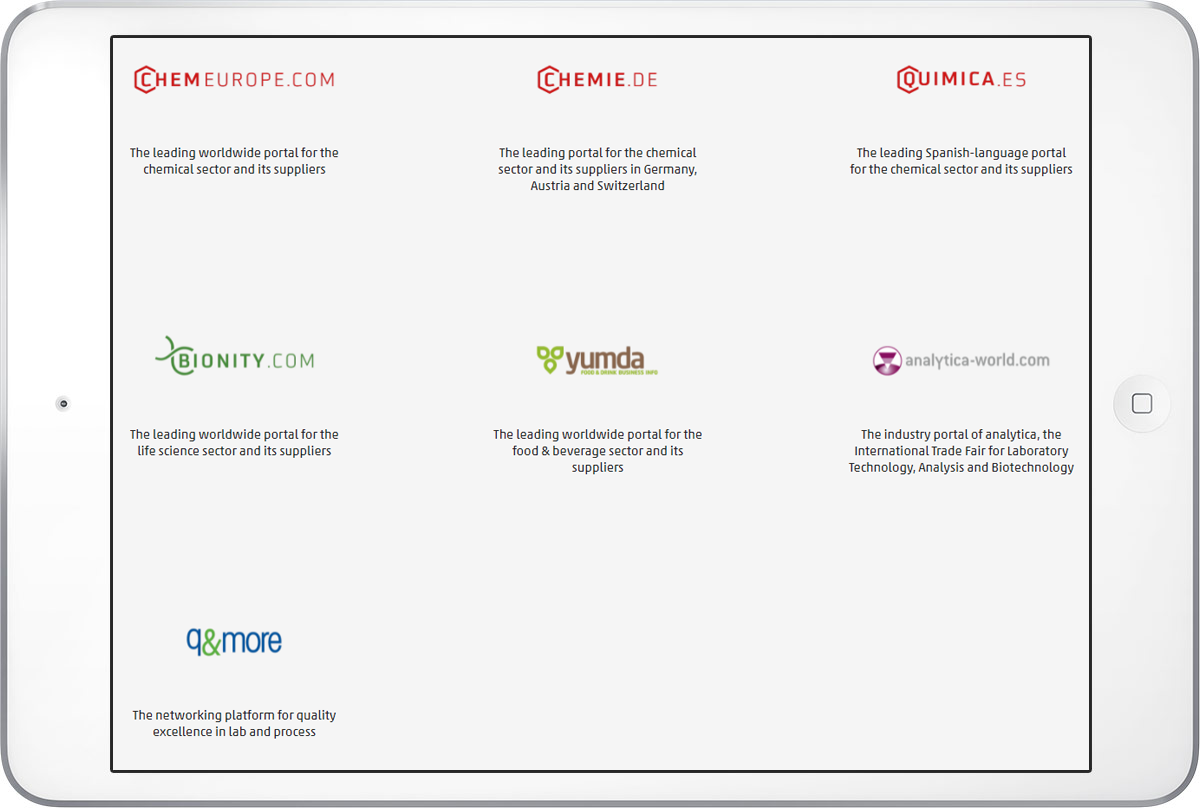 Each of our portals falls into one of four channels. This ensures that you always reach the right target group for your products, catalogues, whitepapers and webinars.
The three specialist portals of our Chemistry Channel cover all topics related to chemistry, from lab to process.
The Life Science Channel is the place to be for life sciences, biotechnology and pharmaceuticals.
Lab and analytical technology are the focus of the Lab Channel.
Finally, the Food & Beverage Channel is dedicated to the production, processing and quality control of food and beverages.
Your benefits
---
You'll reach more target markets

You'll attract interest around the globe

You'll get more quality sales leads
768 €
per additional channel