LUMITOS's online marketing blog
---

B2B new customer acquisition – a question of visibility
It's easier to gain new customers if you don't wear camouflage
Every day your competitors do new business with customers who have not even contacted you. This would be understandable if your company had a dubious reputation. But you work at a reputable company which has been on the market for many years, selling quality products. Why on earth do potential buyers not contact you?
The answer is quite simple: those people haven't heard of your company! Whenever they look for a new supplier, your company is nowhere to be seen. This is the starting point to make your company better visible on the internet.
Brand awareness in B2B companies
You can easily deceive yourself when it comes to brand awareness. B2B companies that have been in the market for decades tend to be convinced that all potential customers are aware of the company's brand.
I witnessed this myself. A Head of Sales wouldn't believe me when I confronted him with the facts: only 45% of the potential customers in a particular market segment knew his company.
What was the problem? The company had been blinded by its annual sales growth and had not realized that there are many more potential customers out there.
So how did it go about acquiring new customers? By leaving the trodden path and looking for new ways of increasing the visibility of the company and its products and services.
In today's blog article, I'll present an effective way for you to measurably increase the visibility of your company and your products, thereby accelerating the acquisition of new customers.
B2B new customer acquisition with a company presentation on industry portals
In the pre-internet era, printed B2B supplier reference volumes such as "Kelly's Business Directory" were a MUST HAVE for buyers and suppliers in the UK. Around the turn of the millennium, some plain online supplier directories and industry-focused portals hosting company presentations appeared on the internet.
Online supplier directories without an industry focus
Alphabetically sorted list of suppliers
Contact details such as postal address, phone number, e-mail address
Integrated company logos (offered only by some)
Often no suitable or crude product categories (e.g. both a scalpel and a bread knife are "cutting tools")
Company presentations on industry portals
Indexing of the products using terms that are relevant from a user's viewpoint
GDPR-compliant sales lead generation
Contact details such as postal address, phone number, e-mail address
Company profile containing a large photo or graph to give potential buyers a first impression
Company logo
Company video
Trade fair appearances
This is how a company presentation helps you in new customer acquisition
Every day on industry-focused internet portals, thousands of professionals search for solutions to the problems and challenges they face. Even with only a company presentation as an isolated measure, your company will become visible to those potential customers. Whenever a user of the portal searches for a solution to a problem, appropriate suppliers are displayed.
A single click leads potential buyers to the company presentation, where they'll get a comprehensive idea of your company and recognize whether it qualifies as a supplier. Your company gets the opportunity to gain new customers.
Case study: This is how potential buyers find the right supplier on industry portals
The head of a research group wants to set up a new laboratory. This includes purchasing pipettes. Her experience with the pipettes from supplier A hasn't been good, especially when pipetting long series. She visits the industry portal chemeurope.com, where she looks for an alternative.
1. She enters the search term "pipette" into the search field. After typing in only the first three letters of the word, some search suggestions appear. She clicks on "pipettes".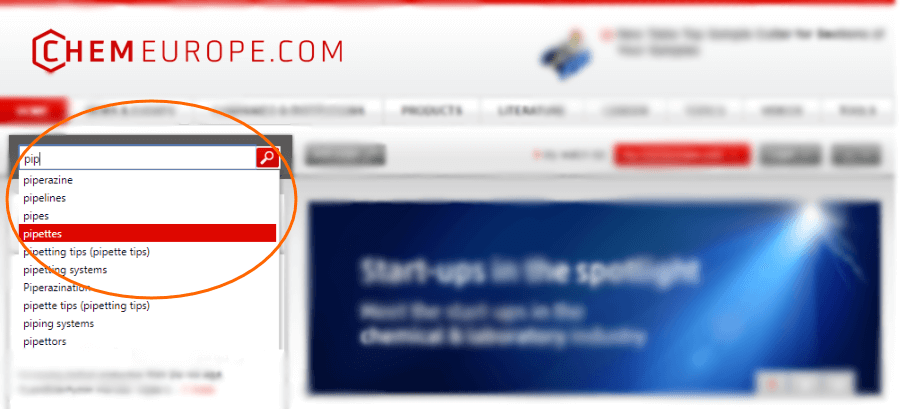 2. Upon selecting "pipettes", all the content the industry portal offers about pipettes appears. The scientist now wants to know which companies provide pipettes. She clicks on "Companies".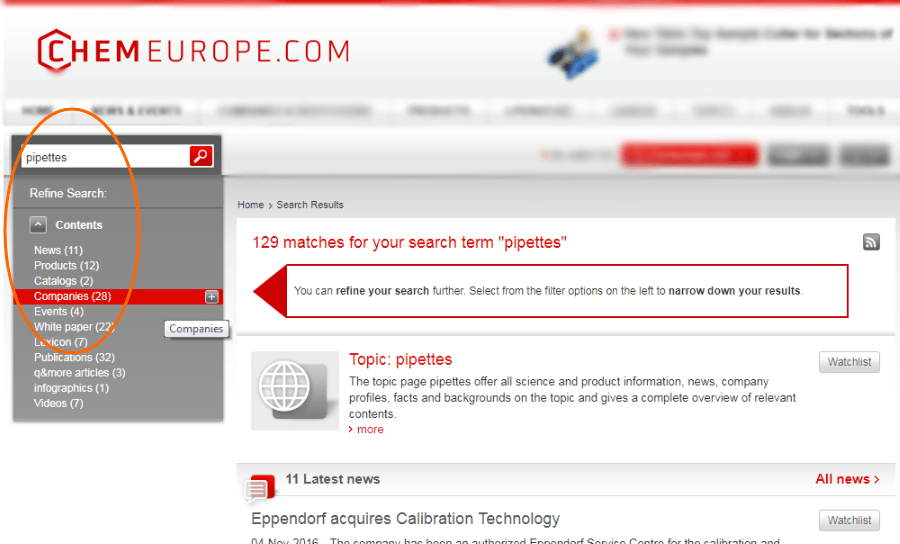 3. Our scientist is shown all the 28 companies that offer pipettes. The logo of the company BRAND attracts her attention because she purchases consumables from them. This time she wants to know something about the company's pipettes and therefore clicks on the logo.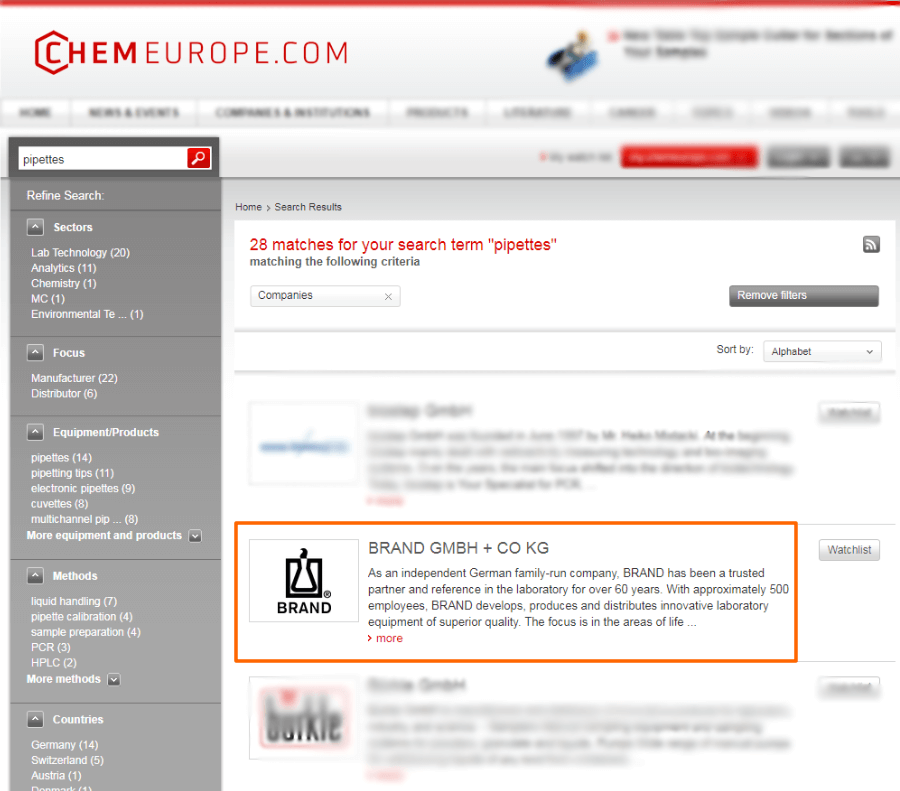 4. The click on the logo directs her to the Premium Company Presentation of BRAND. She immediately sees all the relevant contact information.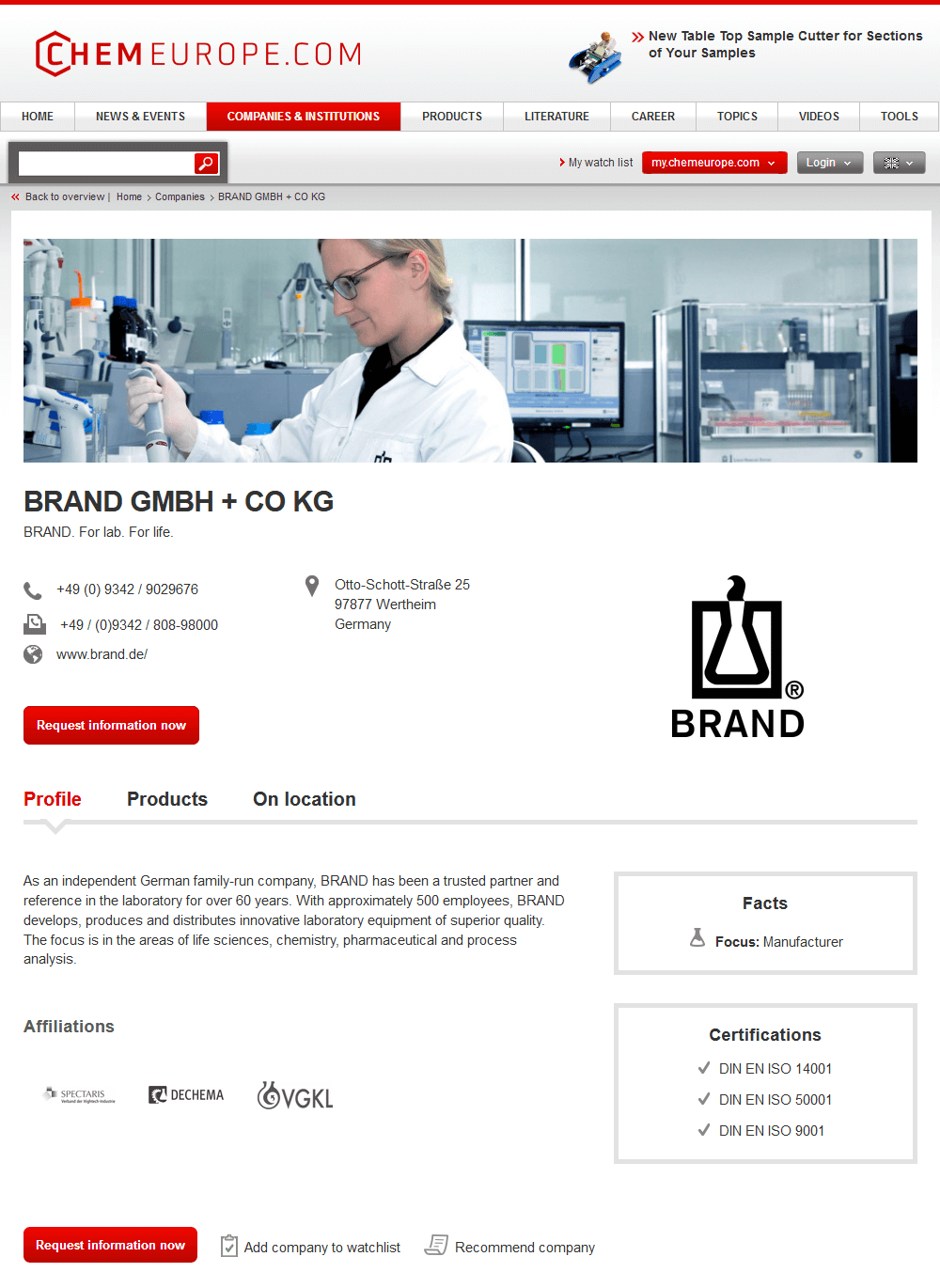 5. Now she wants to know what else, other than pipettes, BRAND supplies. She clicks on "Products" and is surprised to see that BRAND offers much more than merely pipettes and consumables.
6. But for now her priority is pipettes. She clicks on "Request Information Now" to ask for brochures.
She fills in the contact form and writes what she is looking for. According to the General Data Protection Regulation (GDPR), enquirers must consent to the processing of their data if BRAND wants to send them the requested information without breaking the law. By submitting the enquiry, BRAND is immediately sent a GDPR-compliant sales lead, getting the company well on the way towards a new customer acquisition.
Tip: When selecting suitable internet portals on which to advertise, look out for answers to these 6 questions

1. Is your target group among the users?
2. Do the users work in the countries into which you want to sell?
3. Do the indexed product categories match your portfolio?
4. Are company logos and photos shown in good resolution and distortion-free?
5. Is the process of generating sales leads GDPR compliant?
6.Do you receive free performance figures for your company presentation?
Summary
In B2B new customer acquisition, it isn't enough to focus on your website, your sales team, print advertisements or trade fairs. You need visibility on 365 days a year for your brand and product portfolio. With company presentations on specialised industry portals, your company will be visible around the clock. You'll most probably reach many new potential customers.
You wish to know more about company presentations? At lumitos.com you will find further information and two videos explaining how they work.
Photo by Tim Mossholder on Unsplash